A Year Of Boxes Review | The Literary Book Club | Little Women | August 2021
The Literary Book Club Review August 2021
The Literary Book Club is a bimonthly literary subscription box. Every other month, they send you a gorgeous collectible edition of a classic book and thoughtful, curated gifts to make your experience magical. The gifts are wrapped and numbered with page numbers to open as you read. They kindly sent us this box for review.
I have a brand new subscription box to share with you today and I am beyond excited about it. The Literary Book Club is a new subscription from the same company that does Wildflower Club, and you all know how much I adore Wildflower Club. This is their very first box, and from the looks of it…..it's going to be a new favorite.
Subscription Details
The Literary Book Club is $74.95 bimonthly and shipping is $9.95, only shipping within the US at this time.
Each themed bi-monthly box will feature a selection of carefully curated special gifts, in addition to your stunning collectible edition book. You can expect to receive a variety of useful lifestyle gifts, self care luxury products, items bibliophiles will adore, and other lovely surprises.
When you join the Literary Book Club Box, you'll also receive exclusive access to their private book club Facebook group for subscribers, where you can discuss your experience of the classics with other literary fans. Inside the group, you'll find great conversation, and bonuses like giveaways only for subscribers!
Here's a closer look at their very first box, I am so excited to share it with you….
When I first opened the August The Literary Book Club I found this beautiful note. It tells us that our product list is at the bottom of the box and that we are to wait until we have opened all the gifts before we read it.
Here we have a few little extra goodies – bookmark, book plate, and some stickers.
Founding Member Gifts
All founding members received this super cute bookmark. I think this was a lovely way to thank people who subscribed to the very first box.
This little gift didn't have a page number on it, but it definitely ties in to the book perfectly. Speaking of book….let's have a look at that now…..
Little Women
Our book for the August The Literary Book Club box is Little Women and it is absolutely beautiful. Not only do I love this book (and movie) but I am also in love with this stunning collector's edition of the books itself. After I am finished reading it I will probably use it as decor in my office.
Art Print
We also received this beautiful print. This is something we receive in every Wildflower Club box so I am wondering if we can expect to see the same in each The Literary Book Club box?
PS – Don't you just LOVE this quote!
Now let's have a look at the gifts. Each gift is individually wrapped and has a page number on it. We are to open the gift when we get to the page in the book. It's such a great way to prolong the unboxing experience and bring the book to life!
Pg. 33
This is a quote from page 33 and I absolutely love it. I will be putting this on my fridge ASAP.
Pg. 64
On page 64 Amy burns Jo's book of little fairy tales that she has been working on.
Pg. 84
On page 84 it talks about the fact that the girls call themselves the Pickwick Club.
PS – This candle is to die for! The perfect scent for fall!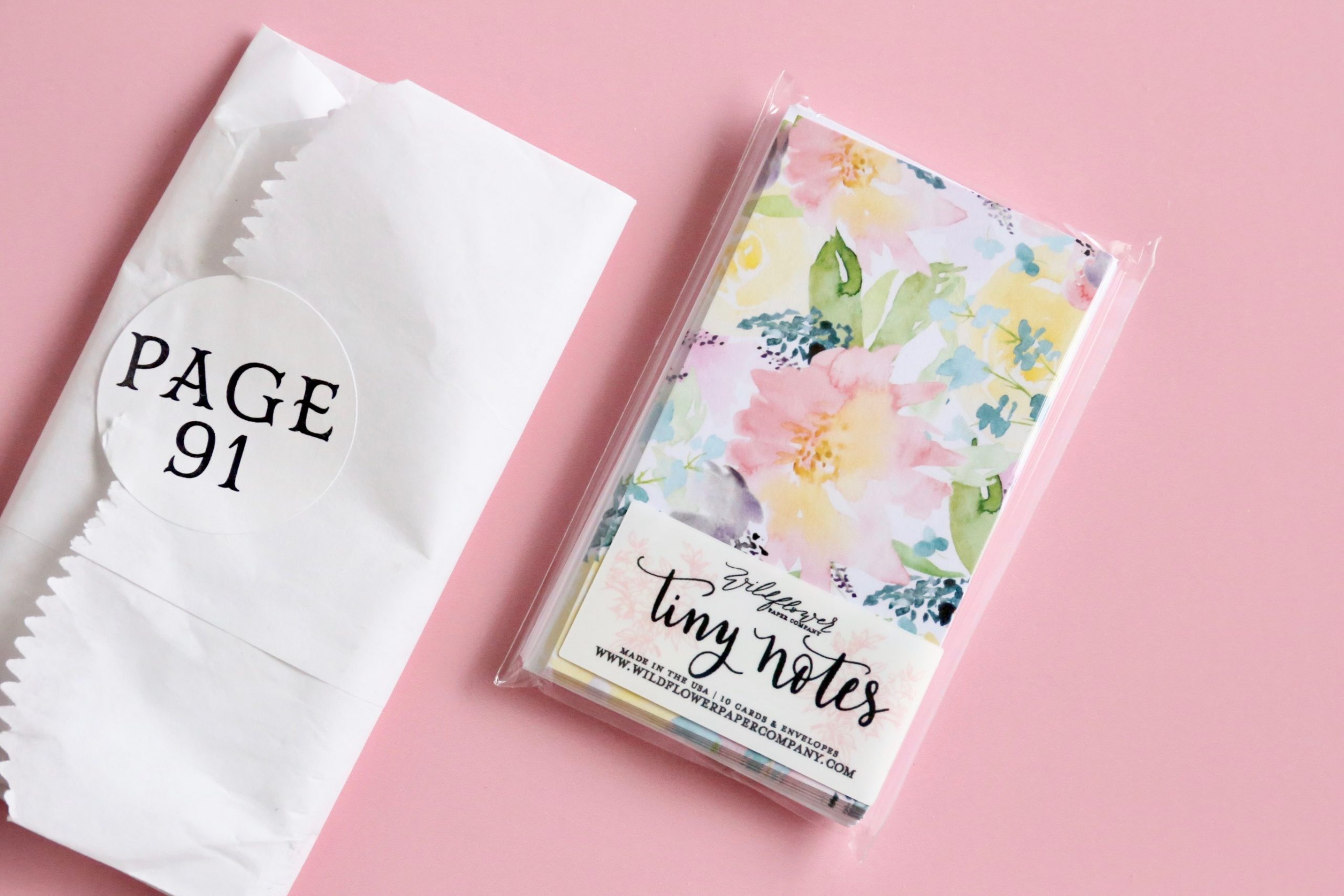 Pg. 91
I'm trying to figure out how these beautiful little note cards fit in to page 91. It might be the reference to the post office, or maybe the reference to a love-letter Jo receives. Either way, they are adorable and I can't wait to use them.
Pg. 118
It's on this page that Laurie joins the girls for the first time. He essential becomes an "Honorary March Sister".
Pg. 225
On page 225 there's talk of Meg's current jelly. And how adorable is this little jar complete with serving spoon?
Last Gift
Our last gift was to be opened when we finish reading the book, and it also happens to be my favorite gift in the box. I LOVE cook books and I love this one even more because each page has a little paragraph corresponding to one of the books in the Little Women series.
The Literary Book Club Review August 2021 – Final Thoughts
Well…..it's safe to say that I am a HUGE fan of The Literary Book Club. I think they did an amazing job with their very first box, and if this is what we can expect to see with each box going forward then I strongly urge you to sign up. I love the book choice, I love the beautiful packaging, I love all the little extra details, and I love all of the gifts we received. I'm going to add this one to my favourites list, and I absolutely cannot wait to see what they come up with for the next few boxes.
-AYOB Sarah
---